Of the classes I took this last semester, there's only one I haven't blogged about at least once.
Masochist that I am, I went and took "Applied Calculus", even though I'd gotten approval to count my previous semester of calculus (about 8 years ago) as fulfilling the mathematics requirement for graduation. The "applied" in the title of the class caught my eye, and after speaking to the instructor before the semester to find out what the class was like I decided that if there was time and money left I'd take the class. So I did.
Although I'd rank it as only the second most useful "Mathematics" course I've taken so far, Dr. Wolper was one of the best mathematics instructors I've had up to this point, so I've got no regrets for having spent the time and money to take it. I suspect I'll remember a lot more of it than I did of the previous calculus class.
Anyway, getting to the point of this post:
There are times when I am unable to restrain myself and answer homework or exam questions in a terse, boring manner, regardless of the subject. If you're an instructor and are wondering if you want me in your class, here is something to judge by.
Calculus (for those who don't know) is more or less the math you use to deal with when, how, and how fast things change. In practical terms, when dealing with real-world applications this often means dealing with a graph of some data. A number of homework (and exam) problems this semester dealt with questions along the lines of "what would a graph of such-and-such a situation look like and how would you interpret it?". Here's one from early in the semester: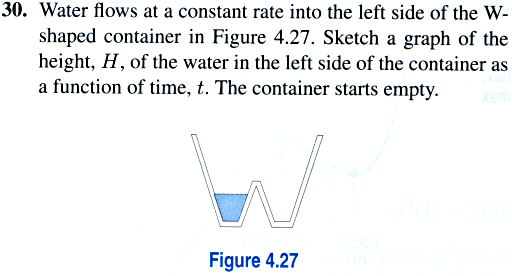 This was my answer: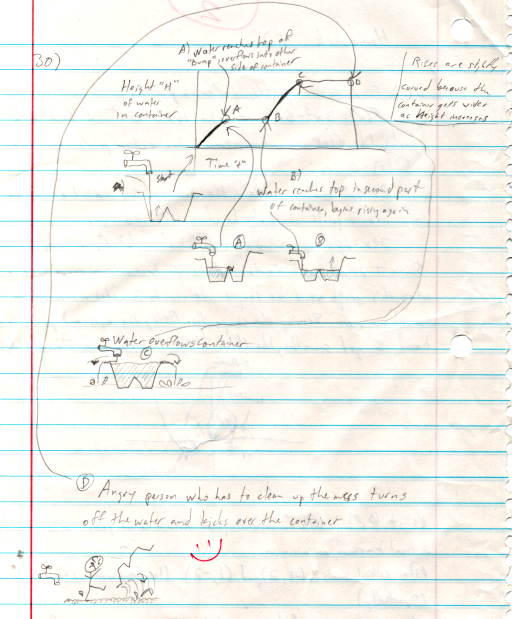 You may judge for yourself whether this is a good answer or not…