…but teach a man to fish, and he'll sit in a boat and drink beer all day.
-== We interrupt this blog post to bring you this important announcement: Happy Birthday, Dad!==-
(His birthday was actually yesterday, but this week of school has been grinding me pretty hard and I'd forgotten all about it. He must be so proud – his son can handle a couple of semesters of biochemistry, complex microbial science, working with dangerous chemicals in a lab…but doesn't seem to know how to use a simple calendar…I am filled with shame.)
We now return you to your regularly scheduled blog post: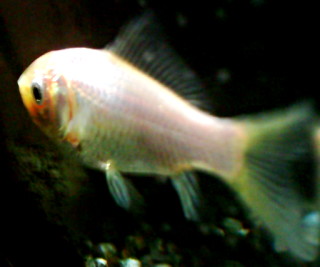 This here critter is our resident fish. "He" is a classic specimen of real, old-fashioned, Honest-to-Aquaman Carassius auratus auratus – the Goldfish. And not one of those poor mutant freaks who can barely swim, either. No this here fish was rescued from the overcrowded "feeder goldfish" tank of a local Wal-Mart®. Handsome, ain't he? I had a tough time getting even this good of a picture – every time I get near the tank he swims back and forth in front of me frantically, perhaps worshipping me as the magical fishfood god. He's been here for about three years now, so I think he's having a much longer life than most of them.
I've had no time to get into it, but part of the reason for having a fish is that I have a casual interest in aquaculture. That is, while I don't currently have any intention of becoming a professional full-scale fish-farmer, the subject is interesting and, I think, very important in the near future. Once we figure out where we're going to end up living next year and get settled in somewhere, I have considered trying to do the aquaculture equivalent of a backyard garden, though.
I think aquaculture is going to become extremely important in the relatively near future, as we run into the combination of overfishing of natural stocks, water shortages, contamination of natural waters with pollutants that build up in naturally-existing populations of fish, and the overall effects of climate change. I think understanding how to raise healthy and nutritious aquatic food without wasting water or causing environmental problems is going to be a useful set of knowledge to have. (There, see, not only do I love kittens and puppies and want to make the world a better place, but I'm also interested in Sustainable Environmental Practices™. While feeding the hungry. [Uphill. In the snow. With no shoes…]).
You may be wondering what interest an ex-professional-computer-nerd microbiologist would have in tending a pond full of eukaryotes. Well, aside from the obvious "Hey, I can have more than one interest, you know", there actually is a lot of microbiological activity involved in the natural processes of the fishes' homes. Plus, of course, the aforementioned beer doesn't ferment and bottle itself, you know.
Since one of my interests in this context is water conservation, my main interest is in figuring out how to maintain a healthy "closed" system. In an aquaculture context, a "closed" system is one that you don't normally add substantial amounts of water to. (An example of an "open" system might include raising fish in pens floating in a natural lake, or having a constant stream of fresh ground or river water pumping through your tanks). This poses certain problems, since you have to feed the fish, and this adds an ever-increasing load of potentially uneaten fishfood and especially of eaten fishfood – that is, fish wastes.
Fishfood being digested by either fish or bacteria ends up adding ammonia to the water, which is poisonous to the fish (and crawdads and whatever else is in there). Also excreted is carbon dioxide, which makes the water more acidic, and unused food also dumps sulfur and phosphorous into the system.
If you've ever had a fishtank, you may know about the ammonia. Certain kinds of Oxygen-using bacteria can actually get some of their biochemical energy from turning reduced nitrogen into oxidized nitrogen, ultimately turning the ammonia (NH3) into much less poisonous nitrate (NO3). These bacteria tend to colonize the tank's filter, where they do their thing using the oxygen in the water that flows through. Even nitrate is dangerous if it builds up too much, though. In an aquarium, they usually recommend just taking out some of the tank's water and replacing it with fresh water every week or two to get rid of the build-up. I'd show you pictures of the bacteria, but I still can't afford a decent microscope. (sniffle.)
Anyway, I want to build a denitrification column one of these days. There are bacteria that can "breathe" nitrate in place of oxygen, and in the process they can reduce the nitrate back down to plain old harmless nitrogen gas, which just bubbles out of the water. If you build a long, tall tube full of something like gravel that bacteria can grow on, and then pump the water through it slowly, oxygen-breathing bacteria near the bottom of the tube rapidly use up the oxygen in the water, leaving the nitrate. With no oxygen further up the tube, bacteria that can breathe the nitrate instead can grow like crazy, and exhale the extra nitrogen out of the system.
That's one way of avoiding the need to use up as much fresh water as you'd need if you relied only on replacing the water to get rid of the nitrate.
I'll save the sulfur and phosphorous parts for another day. Meanwhile, I think the next podcast or two will deal with MRSA, since it's been in the news so much lately. I normally find the neglected non-medical microbiology more interesting, but the biochemistry and genetics involved with Methicillin Resistant Staphylococcus Aureus (not to mention S. aureus itself) is pretty interesting, and I find the media discussions of it unsatisfying.
Stay tuned…