Our next stop was Appolinaris Spring, which seems to be an uncommon thing in Yellowstone National Park: ordinary springwater. No sulfuric acid, no steam, just plain old water that sinks into the ground and then comes back up later. For most of the park's history, it seems like this used to be a popular place to stop to get a drink of water.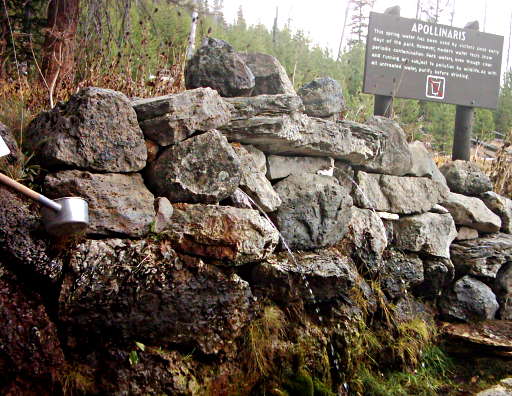 Although the signs around the spring now all suggest that you really shouldn't drink it, at least not without filtering it first, I'm kind of kicking myself now for not having tasted it. Perhaps I'll have to go back on my own time and try it.
Our on-site tests showed a pH of 5.9 (slightly acidic: milk is normally around 6.8 or so, Root Beer somewhere around a more acidic 4.0, cola beverages around 3.0, for reference…), relatively low TDS of about 100ppm, coming out of the ground cool (about 7°C, or 43°F), with very little dissolved Oxygen (about 6.0ppm) and faintly carbonated (300ppm CO2). It reportedly didn't taste too good, but having foolishly missed out on tasting it, I don't know why.
There were hints that perhaps contamination from surface water – like rain trickling through bison poo – but quite some time ago they sealed the spring up to protect it from that kind of thing. This is the actual spring now: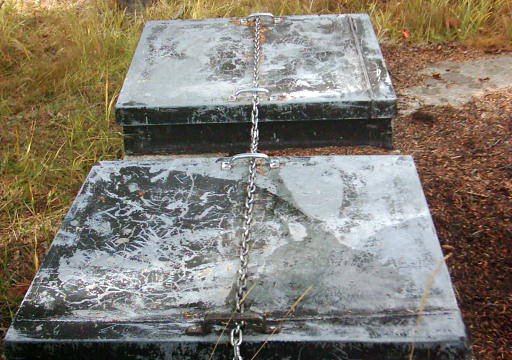 Even so, the signs still try to discourage people from drinking the water coming from the pipes that lead out of the spring, which I take to be the park service covering themselves just in case someone claims to get sick from it. ("Hey, we TOLD you not to drink it!").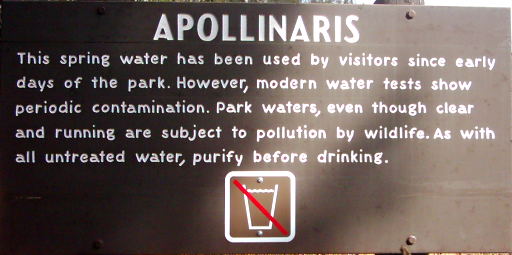 Periodic pollution by wildlife? What the…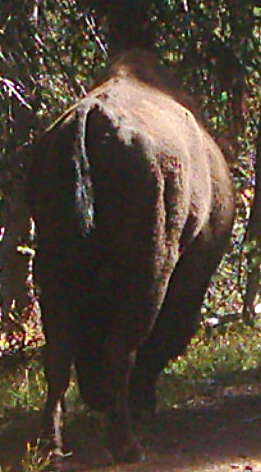 Oh, right. Natural bottled-spring-water flavor. Hey, it's natural, it's got to be good for you, right?
And to end this post on a complete and totally baffling non-sequitur: the student lounge I'm sitting in right now has a television constantly tuned to some cheesy mass-media channel. Today it's "E!®". I overheard something on it just now that made me sit up and take notice: Evidently "Leprechaun" made a profit. Wow.
One never knows what kind of amazing things one might learn at college…