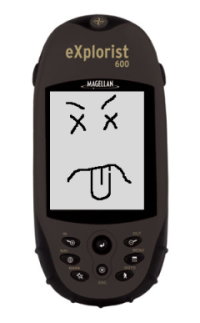 A couple of months ago I traded up from my Garmen etrex Legend to a Magellan eXplorist 600. I wanted to get away from Garmin due to a couple of irritating limitations that they seem to cling to (like losing your timestamps if you save an individual track, lack of SD card support, and dropping NMEA data support "to support [their] software" [see the review in Make #1]). So far, I've been pretty pleased with the shiny new Magellan. Though their software (as usual) only works on Microsoft Windows, I didn't buy it for the software, and GPSBabel handles the data conversion of the files just fine.
So, naturally, now that I've just started blogging with the track data I've been recording with it, it has died on me. Yesterday – worked fine. Today – won't turn on or respond in any way.
The good news is that I DID register the thing online at Magellan corporation's website, and it's supposed to have a 1-year warranty. Support's only available Monday-Friday, though, so I'll have to wait until Monday to see a response to my support query. Wish me luck. I'll post updates in case anyone is interested in how Magellan responds.
In other news, "BigC" followed up on my previous queries about digital microscopes and Linux, saying that the manufacturer is now offering a Linux-compatible version of their AM311S model (the Linux-compatible one is the "AMU311S") by special-order. Only goes up to 200X magnification, though, so it's not real useful for my microbiological purposes. I can't say the manufacturer of these digital scopes is impressing me much, but BigC certainly seems to be going out of their way to give good service.
There'll be at least one other post later today – I wanted to get some more "classic" microbiology papers blogged before the day was up. Kirby-Bauer or Schaeffer-Fulton?…