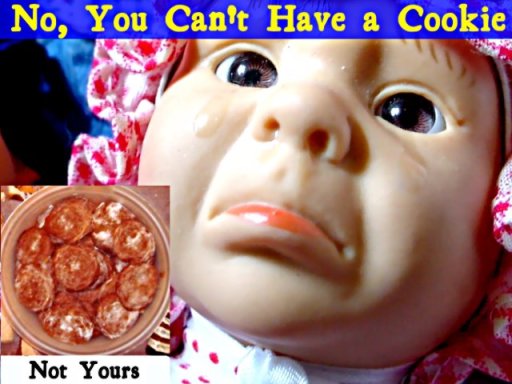 Or: "All Your Bake Are Belong To Us"
Yes, tonight "Where I Was" was in my kitchen.
Introducing "Righteous Fire of Purification Ginger Cookies", version 1.1! Now with more Culinary Grace! And before anyone asks – no, I don't have any idea what possessed me to combine internet memes with cooking in this post.
New Features:
Reduced pH
New Flavor:Lemon Juice!
Source Code: Dry Ingredients
3 Cups of "All-Purpose" bleached flour
1 tsp baking powder
3 Tablespoons (Yes, Tablespoons) Ground Ginger
1.5 Tablespoons (Yes, Tablespoons) Ground Cloves
Around 3 teaspoons

Cassia

Powder
A teaspoon or two of Mace (or Nutmeg)
Wet Ingredients:
A couple of teaspoons of vanilla extract
2 Large "Grade A" Eggs
0.75 Cups of Molasses
A tablespoon or two of lemon juice

Not really "Wet" but treated as such:

About 1.25 Cups of Unsalted Butter
2 Cups of Granulated White Sugar (Sucrose)
About 0.3 Cups of Brown Sugar (Sucrose with a little bit of Molasses added back to it)
How to Compile:
Cream the sugars into the butter
Add the rest of the "wet" ingredients
Add all of the dry ingredients and mix them in thoroughly – add the baking powder LAST (the order of the other ingredients doesn't matter).
Stick the dough somewhere cold to chill
Put some baking parchment on a cookie sheet – sprinkle it with sugar.
Once chilled, scoop out balls of dough onto the cookie sheet.
Sprinkle some more sugar on top of the proto-cookies.
Bake 12 minutes at about 350°F
Sprinkle more sugar on top of the cookies immediately before they cool.
Installation:
Pick up a cookie
Insert as much of the cookie into your mouth as will comfortably fit in a manner that would not be considered obscene or freakish
Bite off portion of cookie. Chew.
Savor the sensations. Be sure to notice and appreciate how the flavors explode on the tongue, like an orgy of purification, preparing your palate for paradise (or at least gratuitous alliteration)
Swallow. Repeat the previous two steps until cookie is completely devoured and has become a part of your very being.
Visible shudders and audible moans of pleasure and "MMMM!" noises are optional, but recommended.
The only mortal flaw imposed upon these otherwise unmarred cookies is that they keep coming out "crispy-chewy" instead of "soft-chewy" as I want. I was hoping the added acid would help keep the cookies firmer and prevent flattening as they baked – as Tako, the Octopus mentioned in the "Chocolate Chip Cookies" episode – but no luck. Or at least not much. However, as I'd hoped, the lemon juice flavor goes PERFECTLY with the ginger. The texture is a minor flaw (and is actually preferred by some people. Not that there's anything wrong with that.)
Oh, I know, SOMEBODY is bound to recommend that "shortening" or "margarine" crap instead of butter, since they don't melt as suddenly as real butter. Feh! Those are An Abomination Unto The Cook! There has to be another way – I refuse to defile these cookies. (Hmmm, how does the melting temperature of lard compare?)
Incidentally, I was completely wrong when I was guessing that the ginger pungency meant it had a mustard-like flavor chemical. It's nothing of the sort – in fact it turns out that several of my favorite spice flavors have very similar structures – Eugenol (clove), Vanillin (vanilla), Zingerone… All of them have the same sort of "ortho-methoxy phenol" type shape in them. If you look up Zingerone, Vanillin, and Eugenol on Wikipedia, you can compare the chemical structure and see the similarities around the "ring" that I'm talking about.
Oh, and for the internet meme references:
See "im in ur base, killin ur d00dz" (Numerous parodies exist – such as This One, though for some reason most of them have cats in them – like this one. (Ran into this one on BoingBoing
The picture parodies a picture that appears to be turning into a cliche' on fark.com. You can see the original here. Incidentally, the photo I used to make this parody comes from "strph" on flickr.com (Original here) released under Creative Commons "Attribution/Share-alike" terms – so if for some reason you can't resist remixing my masterpiece here…go for it. Just give me credit and allow others to remix yours as well.
I'm pretty sure "All Your Base Are Belong To Us" is well covered by the "Internet History" class you have to take to be allowed on the intertubes nowadays, right? No? Well, Wikipedia has the details.
And there you have it – Where I Was™, some food science, and some Internet Nerd History lesson, all in one post. You're welcome.