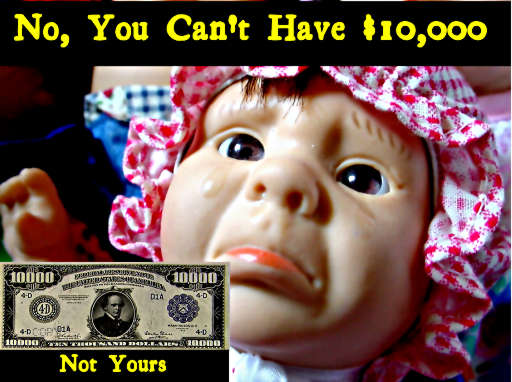 I am proud to announce that I am 5th Loser in this 2007 College Blogging Scholarship competition!
Lacking the emotional appeal and/or existing promotional network of the top scorers, I was pretty much up the creek without a plunger. Given the popularity contest format of the competition, I'm actually pretty pleased with how I did. My regular readers (judging by the hits to the RSS feed) have approximately tripled or quadrupled, and I did get a small but useful amount of feedback to help improve things. Oh, and hey, I seem to have readers in Berlin and somewhere in Chile, among other places, so now I can say I'm "world famous™". Though the proportion of voters who actually did check out all of the blogs was pitifully low, it does still look like it was around 1-2% of the voters, which is actually higher than I would have predicted.
I get the impression that some of us running less well known blogs were a little disappointed about the format of the competition, but there's really no reason to be. All it means is that rather than being a contest for "highest quality" blog, it was a contest for "most effective" blog. Certainly, being able to get your "vote for me" message out to a larger range of people is a valid measure of effectiveness, so the results seem reasonable to me. And I wasn't the bottom scorer. Judging by the way my score moved, at least some portion of the people who were examining all of the blogs actually did like what they saw here as I was getting a couple of votes a day on average, so I'm doing something right at least.
The only complaint I really have about the "popularity contest" format is this: I think one of the major benefits to humanity of "blogging" is the fact that unlike mainstream media, a blogger can afford to present unusual, less broadly popular content which otherwise would never be made available. Not having to worry about the internet equivalent of "Nielsen Ratings", we can afford to put up obscure or strange things that only a fraction of the world might be interested in, which is why if you poke around the internet, you can find something that isn't the latest celebrity crap or badly-reported political scandal. I actually don't know how much of a role it played in this particular competition, but this sort of approach in general strikes me as something that would be strongly biased towards "mainstream" content. I think a little more love for all of us off-center folks would be in order.
I also hope they're offering runner-up prizes again this year. Even if *I* don't win, at least one of "my people" (nerds, that is – hey, you don't go for a PhD in Neuroscience without being at least a little bit of a nerd…) would get something again this year if they do.
This does mean, though, that I won't have $10,000 to buy a microscope with. Woe is me. On the other hand, that means I've got no excuse not to try begging in front of scientific conferences. I figure that ought to be worth some entertainment, once I get some time to try it. Perhaps by this time next year, I'll have a bit more fame and popularity and have a better shot at the prize.
Hey, scienceblogs.com, if you want to promote my blog next year when I'm (hopefully) in graduate school, I may have a shot at the prize next time around… (UPDATE: It may not be obvious, but this should be read as good-natured jealously, not some kind of complaint or accusation…)
And now that all that's over, we'll be returning once again to my usual nerdity. Stay tuned (some more).