99%(!) of Entergy Texas' customers are apparently without power right now. I wish they'd actually put some effort into preparing the lines for severe weather and streamlining the repairs, instead of letting the whole thing fall apart and then getting the state legislature to approve yet another "Hurricane Cost Recovery Charge" to be added to everyone's bills to pay to return everything to the same "ready to fail at the next batch of severe weather" state…How do I get in on this deal?
Being without air conditioning in southeast Texas this time of year is almost intolerable. If they manage to restore service quickly despite my cynicism, I'll probably feel a lot less cranky…
On the upside, it appears there should be some scenic carnage visible out on the lake if I manage to get some time to get out and paddle around a while between bouts of moving bits of broken tree around the yard. Here's a sample shot taken from the shore of Lake Conroe earlier today: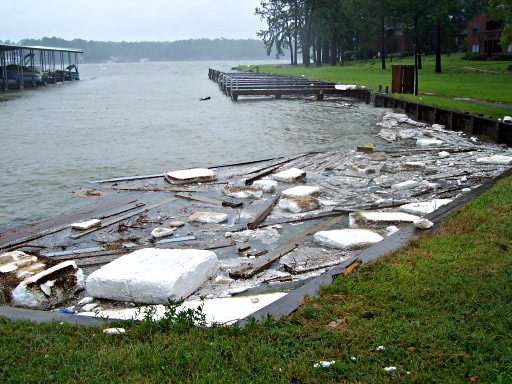 I imagine there'll be some interesting things to see if I get time to go paddle on the lake once the weather – already calmed down to more like an ordinary rainstorm – settles down. If nothing else, I would like to know if the stubborn apple tree we found growing offshore managed to survive the destruction.
Oh, and a bonus – the RV/Trailer seems to have survived okay, other than one of the vents being blown open (the inside's probably gotten a little wet, but this shouldn't do any permanent damage.)
Meanwhile, we've driven an hour and a quarter away to the one area around here that seems to have survived mostly intact. New York Sub in College Station, TX (geotr:30.61897,-96.34700:20080913T1908:geostr) has wall outlets to charge our laptop's batteries (and cellphone) and internet access that's faster than 56kbit. Bonus. But now we need to head back and rescue the doggies who are stuck at home waiting for us to come back.
More updates over the next few days as time and electricity permit…