I awaken. Am I alive? The temperature is neither extremely hot nor extremely cold, so I'm apparently not in some punishment-afterlife. And there's no beer volcano or stripper-factory, so this obviously isn't heaven. On the other hand, I am experiencing the usual persistent discomfort involved with waking up early in the morning. On the assumption that Catholic "purgatory" would be more dull, I will assume I am still alive, and had better get up and get to class.
Since my previous experiment, I have obviously had to revise my original hypothesis. Since the last caused me no ill effects, I had to abandon the notion that expired gelatin products become a deadly poison. Instead, as I consume this batch of official, non-sugarless Jell-O®-brand Gelatin (Lime flavored), I operate on a new hypothesis:
"Expired instant gelatin products from intact packaging will not harm me if I eat it."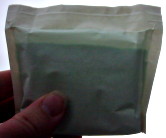 My precious stock of expired JellO® is depleted by one more box, the packet ripped from its cardboard sarcophagus, the contents prepared according to the standard instructions, and consumed hastily last night (the animation from the previous post is the actual container of prepared Lime JellO® made from digital photographs taken between helpings.). You can see the old-style date code on the box. According to Carolyn Wyman's "JELL-O: A Biography", the code indicates that it was packaged in 2003 (the "3" at the beginning of the code), on the 343rd day of the year, in the San Leandro (California) packaging facility. Although there is no official "expiration date" shown, given the "expected shelf life" of 24 months, this package is approximately 2 years out of date. And I ate it. I appear to have suffered no ill effects. Not even a decent sugar-rush: the entire box contains 320 calories, barely equivalent to a package of Twinkies®. The flavor even appeared to be perfectly normal. Mmmmmm, Lime JellO…
When I took it out to eat it, I did spot a beautiful if alarming sight, though: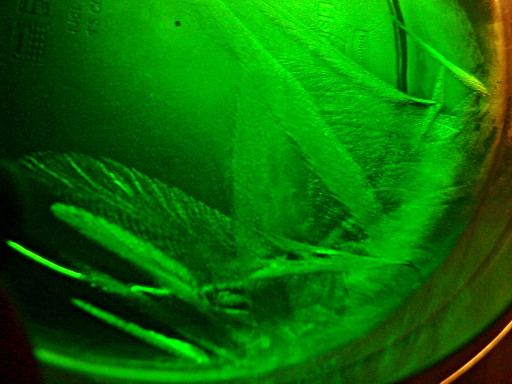 The crystalline-appearing sheets of growth from the edge of the bowl into the gelatin was slightly disturbing. Was I crystallizing something odd out of the gelatin/sugar/flavor solution? The growth resembled infiltration of mold into the gelatin medium enough to slightly worry me. But only slightly.
In fact, as I had most suspected, these turned out to be ice crystals. Quite pretty, but they started slowly melting away after the bowl was allowed to sit at room temperature for fifteen minutes or so – plus, they crunched when I ate them just like ice. Thus encouraged, I ate the gelatin and went to bed. And here I am (sitting in the student lounge between "History of Western Art" and "Introduction to Philosophy") happily blogging away, apparently unharmed.
Does this prove that expired instant gelatin is harmless? Well, no, not exactly. Scientists never really "prove" anything. Instead, we attempt to "falsify" our hypotheses and theories as best we can. This is where the concept of the "null hypothesis" comes in.
The "Null Hypothesis" here is the situation that, if true, falsifies my hypothesis. In this case, it would be "Expired instant gelatin products from intact packaging will harm me if I eat it.". However, I did eat expired gelatin products from an intact package and was NOT harmed. Therefore I must "reject the Null Hypothesis"…and therefore my experimental evidence does not fail to support my hypothesis! SUCCESS!
If we are unable to find a condition which renders our hypothesis or theory incorrect after many and varied tests, ideally by several different researchers, then we can be confident that our hypothesis or theory is correct, but we don't necessarily KNOW that there isn't some odd undiscovered exception that we don't know about.
Two samples (this one and the previous sugarless-orange one) is hardly a large number of trials. This doesn't prove that expired JellO® is always safe, but since I know of no plausible way by which an intact package of instant gelatin could become hazardous I feel pretty comfortable that expired gelatin from intact packaging won't harm me.
If the package is not intact and contains a fuzzy green lump instead of the usual powder, then it's a whole other situation, obviously…
I do still have three or four more boxes of the sugarless generic expired gelatin – perhaps I can come up with some more tests. Meanwhile, I do hope that my incredibly brave, life-threatening experiments here will relax nervous expired-JellO eaters everywhere…