I've got a project going to isolate as many yeasts and bacteria as I can from the dregs of a bottle of relatively-famous-brand Lambic ale.
So far, I've got at LEAST 3 different types of bacteria and two different yeasts – all of which I suspect are "intentional" – that is, the bacteria are probably lactic-acid bacteria (Lactobacillus, Pediococcus, etc.) which are expected to grow there, and the yeasts I believe to be a Brettanomyces-type yeast and a Saccharomyces yeast (based purely on what I expect to find and the small amount of microscopy that I've been able to do so far.)
I have at least one and maybe two different "Gram-positive" rod cultures which I believe to probably be Lactobacillus species. I have several isolates of generic "clusters of Gram-positive coccoids" of which there are at least two different types (which look more or less identical in the microscope, but one of which seems to generate acid while eating mannitol and one that doesn't).
I have so far named three isolates from Sabouraud agar: Sally, Sid, and Sam.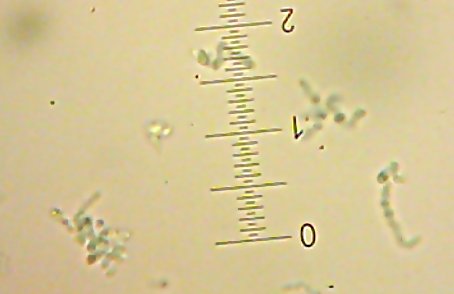 Sally, the maybe-Brettanomyces-type yeast – 400X magnification (Lactophenol Cotton Blue stain)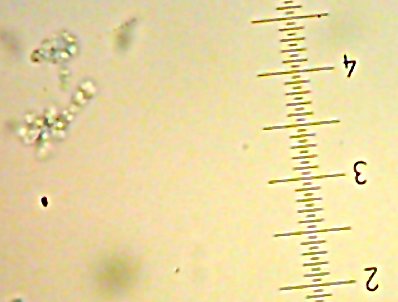 Sam, the maybe-Saccharomyces-type yeast – 400X magnification (Lactophenol Cotton Blue stain.)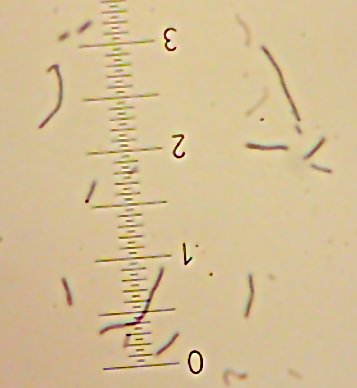 Sid, presumably a Lactobacillus-type bacteria – 1000X magnification (Gram stain)
I've also collected four isolates (which may actually just be two different organisms) from an initial inoculation on MSA – BillyBob, JimBob, BettySue, and MarySue. MarySue is the one that seems to be "fermenting" the mannitol.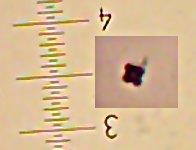 This is BillyBob (I clipped part of the image and moved it closer to the little "ruler"). The others look essentially the same when Gram-stained.
I've also got a bacillus-type (presumably Lactobacillus) critter that showed up on an initial BHI which may or may not be the same as Sid, and I got two more BillyBob/MarySue type colonies on another MRS agar plate.
Interestingly, when I did the original inoculations, it's the ones that I added the LEAST amount of beer sediment to (20?l) that seems to get the growth – higher amounts may just add so much sugary solution (this stuff is quite sweet) that it inhibits growth.I really hope I can arrange to do molecular analysis (specifically, 16s rDNA sequences) on at least the bacteria, if not the yeast as well. I'd really like to get good identification of these. Assuming they're real Lambic organisms, they're probably already in the databases somewhere and should be readily identifiable – assuming someone will let me use up some supplies.