I had to forgo the pleasures of lounging in the hotsprings, due to the excess of time it took to load up Flagella for the trip back and finish running errands. I had to get out of Idaho while the getting was good, as another storm was on the way. Still, the return trip wasn't a total loss: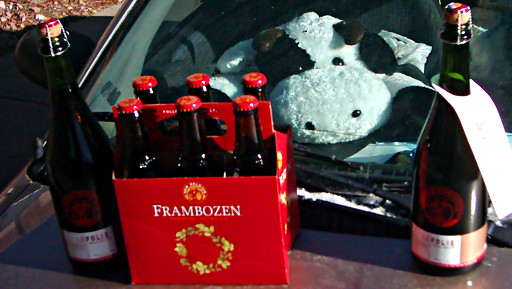 I managed to score a couple of bottles of La Folie and a six-pack of Frambozen. FloppyCow is jealous. These brews may make a decent relaxative with which to treat my exhaustipation.
I learned a few things playing with my prototype "Where Was I? application for Asterisk. For one thing, I need a longer greeting message, so that my asterisk box will still be listening when my cellphone finally obeys me mashing on its keypad and sends the tones. For another, Suddenlink may be screwing me over on my outgoing data (I'm supposed to be getting 384k outgoing, which ought to be plenty of bandwidth, but strangely enough from outside my VOIP packets are getting completely screwed up. I need to research this to see if it's really them.) In any case, I had fun playing with it, and now have a better idea of how to (re-)design it for regular use.
Meanwhile, though, now that the car is finally unloaded again it's time to rest and try to remember everything else I needed/wanted to get done during the holiday break.