My first "Will It Ferment" project is now in process.
See, I'm stuck with a somewhat unpredictable schedule and a need to travel frequently, cramped spaces to work in at the moment, and a streak of gustatory perversion that I just can't help an urge to rebel against purists at the moment.
Quick bit of background on that latter statement: I've noticed that people seem to think there are only two-and-a-half kinds of "real" non-commercial fermented beverages. There's beer (which is apparently defined as a strong tisane of hops, flavored by mixing it into fermented malt), there's wine (which is always made of grapes of course), and out on the fringes of respectability is Mead ("Honey wine") which seems to be slowly gaining some acceptance as a mildly exotic brew. The attitude is that anything else you might want to brew (say, a beer flavored and preserved with something besides hops, or a wine made out of anything but grapes) is probably some quaint "country" (i.e. hillbilly) thing for people who either live too far from civilization or are too poor to just buy a "real" beverage, or are too ignorant to know the difference. Either that, or it's just some desperate attempt to make something to get drunk on. Might as well be making pruno.
The attitude kind of annoys me, so I'm trying to make a sort of "free person's pruno". I figure if the end result is as palatable as it could be, it'll probably resemble "Zima®".  Uh, no, I don't expect it to be great – this is merely an experiment.  My must has an Original Specific Gravity ("O.G.") of approximately 1.054, about the same as most lagers start out. As I write this, my gallon of must is on the stove in a stainless steel pot. I'm going to try to heat it to boiling and let it boil for a few minutes in hopes of driving off much of the benzoic acid in it, so as not to inhibit the yeast fermentation.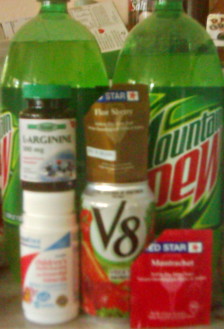 To your right, you should see the ingredients used in this project. Yes, those two bottles in the background are there on purpose. I'm trying to make…Mountain Dew® Wine.
Here's the plan:
Last night, I took a couple of clean glass 1 Qt milk bottles, rinsed them with iodophor solution to sanitize, let them dry. Then, I put about 12 ounces of tap water (unchlorinated) into one and dumped the contents of both yeast packets you see in the picture into it to rehydrate.
The yeast packets were opened over a year ago – I don't even recall what I did with the tiny amount of yeast I poured out. They've been sitting in the 'fridge since then. What's more, they had expired in December of 2006 to begin with.
The two yeasts (Red Star Montrachet and Red Star Flor Sherry) were both mixed into the same container in hopes that I could encourage a yeast orgy, giving me as much genetic diversity as possible from the two strains and maximizing the chance that I'd be able to get a culture which can grow in flat Mountain Dew and whatever benzoic acid (from Sodium Benzoate) might remain in it. I had read that V8 juice was actually an excellent medium for inducing yeast sporulation. Since sporulation occurs as a result of yeast cells mating, I made a huge leap of logic towards thinking the V8 might maximize my chances of getting some yeast mating going on.
After a few minutes to rehydrate, I dumped the 12-ounce can of V8 into the bottle and shook well. I also crushed up a children's chewable vitamin (see bottle at lower-left) and a small portion (perhaps 1/5) of a capsule of the L-Arginine as a nitrogen source and added them as well. I then poured it back and forth between the two bottles a few times to aerate, then split the mixture between the two bottles, capped loosely, and went to bed.
As of this morning, fermentation was obviously occurring in the mixture, so sitting in my fridge open for over a year hadn't killed off ALL of the cells. I opened the bottles and swirled to re-aerate, and added about a tablespoon of "corn sugar" (glucose a.k.a. dextrose) to wake the yeast cells back up. Since then, I've been pouring a bit of Mountain Dew right out of a third bottle into each of the yeast starter bottles every couple of hours. The amount of bubbling I see suggests to me that fermentation is still going on (and is not just from the carbonation of the Mountain Dew). Hopefully this will help the yeast culture acclimate a bit to the benzoic acid.
I dumped the other 2 2L bottles of Mountain Dew into a stainless steel 8-qt pot and heated to boiling, whisking with a steel whisk frequently to help get the dissolved gases to bubble out (hopefully along with some benzoic acid in the steam). At this moment, it's up to 75°C (about 165°F) according to the thermometer I have stuck in it. It's steaming a bit, and I can smell some of the citrusy aroma boiling off, unfortunately. I was afraid that'd happen. UPDATE: our ancient stove with one working burner seems to have trouble getting this much liquid above 200°F without cranking it up all the way and risking the bottom getting too hot. Since there's a substantial amount of hot water vapor coming off, I'm going to hope that's carrying away some benzoic acid and just let it start cooling down. I'll stir it vigorously and frequently with the whisk until the temperature drops to about 160°F and then I'll cover it for the night.
Meanwhile, before I go to bed, I'm going to recombine as much of the two yeast culture bottles as I can into one bottle, then rinse out the other. In that one, I'll mix up about 12 ounces of tap water and enough corn sugar to reach a gravity of about 1.050-1.055. I'll crush up another chewable vitamin and about half of the remaining arginine capsule into it, mix well, and warm it with a quick spin in the microwave (no exact measurements, just until it's "obviously warm" to the touch after mixing). Then I'll shake the V8 culture well to mix, and splash about a tablespoon's worth into the new bottle.
In the morning, I'll re-aerate the new culture and add a tablespoon of corn sugar to wake it back up, then once it's going, I'll start adding the now-cooled cooked flat Mountain Dew to it in small increments. Assuming it keeps going, I'll dump in the remainder of the L-Arginine capsule, crush in one last chewable vitamin, and them combine the new culture with the rest of the cooked flat Mountain Dew in a nice plastic 2-gallon "water" container that I picked up (already rinsed with iodophor and dried). Cap it with a latex glove attached with a rubber band as described in the "Pruno" entry in Leon Kania's "Alaskan Bootlegger's Bible" (Click image for link) just because I thought it was the funniest airlock design I'd ever run into. Yes, I am

easily amused

.
If I'm lucky, there'll be so much live and active yeast in the second culture at that point that the fermentation will finish quickly, because I'm driving to Texas the following day. Alternatively, I may be lucky and the remaining benzoic acid will slow the yeast down, so I can safely leave it fermenting (sitting in my sink in case of overflow while I'm gone) for the week that I'll be gone.
If I'm UNlucky, either it won't ferment at all (and I can then use it to try to develop a Mountain Dew Tolerant strain of yeast), or it'll ferment but taste utterly disgusting (in which case I can use it to try to obtain some Gluconobacter strains and make Mountain Dew Vinegar), or it'll be "infected" and will already BE Mountain Dew Vinegar, which would also be pretty funny anyway. So, other than completely unforseen results, this experiment can't be a TOTAL waste.
[Update 20080727: Preliminary results of this perverse project may be read In this more recent post…]