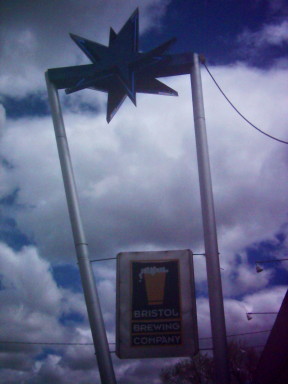 After spotting the company's mention in Jeff Sparrow's "Wildbrews", I've been wanting to visit Bristol Brewing Company, particularly since they may be the only such brewery using local yeasts and bacteria that they isolated themselves from their local environment.
Since we're moving from Southeastern Idaho to Southeastern Texas, I've been going back and forth between the two location. It just so happens that along with New Belgium Brewing Company, Bristol Brewing is actually right along a convenient route between the two locations. (Let's see if I can figure out how to work the Google Maps plugin):
How's that look? How does it work? (Those of you reading this on the RSS feed: The interactive map only appears on the website, it would seem. Please check it out here.) I made the KML file myself…
Bristol Brewing is a cozy little brewpub, and the people there are encouragingly helpful. They were in the middle of bottling, so there were no tours. Also, there were not currently any of the skull-'n-bones beers available. However, I did get an educational series of tastes of their current brews on tap (thank you to the employee I spent most of the time talking to whose name I've embarrassingly forgotten, but who I believe was Tad Davis judging from the photos on the web site). I also lucked out and their microbiologist, Ken Andrews, happened to be there. I asked about their native Colorado brewing flora. Turns out Bristol Brewing isn't quite as bold as I originally thought. They're still doing their primary fermentation with "normal" brewing yeasts. What they've done is inoculated some wine barrels with the locally-isolated yeasts and bacteria, and they use the barrels for a secondary fermentation and aging instead. Much safer if you have to worry about having a drinkable product at the end, and of course it makes me feel like more of a crazed rebel for wanting to isolate my own local bugs for the main fermentation. So, a great visit overall.
Incidentally, it seems they'll be tapping a new Skull-'n-Bones brew in a couple of weeks, at 5pm on Tuesday, May 27th (2008). It sounds like they'll probably have some available for a few days before it all disappears, so I'm hoping my return to Texas can be timed such that I can swing by and at least get a taste.